Posts by
ENRIQUE ABUÍN – POMEGRANATE NEWSPAPER TODAY
"The idea is that there is a place where a person can eat something Japanese and his companion an egg with potatoes and ham. The person who subscribes to this sentence knows his gastronomy. This is Carlos Navarro, who despite his youth is a veteran of the hotel industry in Granada in which he has even held the position of president of the Provincial Federation and leads the group Bib-Rambla. And it is that the surname Navarro takes almost ninety years linked to that square that for the Arabs was the one that gave the entrance to the river. There, at number 20 is located for more than a year and a half Sibarius, a restaurant that puts in a pot the Mediterranean cuisine and Nikkei to offer customers from Granada and abroad new dishes and loaded with sincerity. "It is a project that was born with the desire to do something innovative in the restaurant industry. The idea is to make other types of cuisine such as Peruvian or Japanese, without forgetting our dishes", explains Carlos Navarro.
The restaurant is an example of conviviality. Of how they can respect each other and even mix gastronomies that seem, a priori, radically opposed as the Mediterranean and the Japanese or Peruvian. A philosophy that is translated into the name. "Sibarius means that we are looking for demanding palates," he says. A name that starts from the idea of putting the word sybarite in 'the fusion machine': "We didn't like it because it is associated with something exclusive. We aspire to find more dynamic palates, those who like to try different things.
If the reader has become accustomed to the concept of fusion moving from the pages of culture to the pages of cuisine, he or she will now also have to become familiar with Nikkei jumping from the salmon section of economics to that of gastronomy. The Japanese food boom is accompanied by the Nikkei current, which consists of combining Japanese and Peruvian flavors. This is part of the Sibarius menu, which includes ceviches, tatakis, oriental rice dishes, sushi niguiris and causes from Lima. Carlos Navarro's passion for nikkei is such that Luis Arévalo, a pioneer in Spain in this area, spent this year at the restaurant during his gastronomic days.
Although man does not live by nikkei alone. In Sibarius there are also places where those who like to experience less can enjoy more classic dishes such as an excellent quality almadraba red tuna or beef with a designation of origin from the Basque Country. In addition to the classic Mediterranean rice dishes or the carpetovetonic eggs broken with ham.
Quality and good price. An expression that sounds like a hackneyed cliché, but in the case of Sibarius it is a truth like a temple. A menu very appropriate to economic times and that seeks to be attractive to the local public. "Most of our customers are from here. We feel very granadinos and we like to support the wineries of our province". However, Carlos Navarro admits that "because of the place we are in, we also have to take care of foreign tourism", aware that we have to put an end to the idea that there are places for 'guiris'. A false image that seeks to demystify from now on the young team of Sibarius, working for a cosmopolitan Granada from the Plaza Bib-Rambla.
THE SPECIAL RECIPE.
Niguiri sushi varied specialty of Sibarius
Ingredients:
300 grams of special rice for sushi – rice vinegar – salt – sugar – oulpus – tuna – salmon – wagyu burger – quail egg – wasabi – soybean
– First of all, prepare the rice in advance so that it reaches room temperature. Then, pour it into a special Japanese machine so that it cooks.
– When the rice vinegar is ready, add it to the grains to make it unctuous.
– Roll the sushi niguiri into a dough with the rice and vinegar stock.
– Add the specialty that crowns the niguiri which in this case are octopus, salmon, wagyu burger, quail egg and place the soybean and wasabi.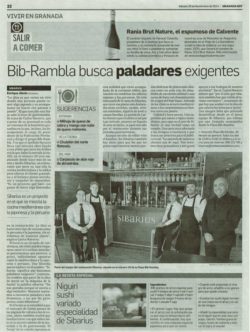 "Part of the Sibarius restaurant team, located at 20 Plaza Bib-Rambla." Graphic Report: Pepe Villoslada